State Duma extends list of grounds for dismissals of prosecutor's offices personnel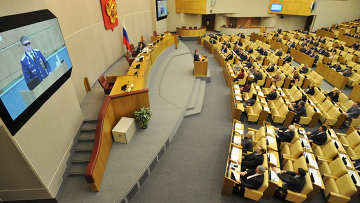 16:53 18/07/2019
MOSCOW, July 18 (RAPSI) – The State Duma has adopted in the third and final reading a bill introducing additional grounds for dismissal of staffers serving at prosecutor's offices. The amendments, according to a statement of the lower house of Russia's parliament, are to strengthen the personnel and provide extra guarantees for the officers for the period of their service.
The bill authored by a group of lawmakers representing the committee on safety and anticorruption envisages that a ground for dismissal is to be a case where an officer rejects assignments offered after his or her dismissal upon the expiration of the term of tenure or and early termination of his or her appointment. At the same time, there is envisaged an opportunity that an officer may be appointed at a vacant post to observe his or her labor rights.
Another ground for dismissal is to be nonperformance of duty because of temporary disability exceeding 4 months. Officers dismissed on this ground are entitled for compensation.
Yet another new ground for dismissal of prosecutor's office personnel is to be a fact of oath-breaking when on sick leave or vacation, as well as a fact of a violation resulting in loss of reputation of Russia's prosecution service or the officer committing such a violation.
At the same time, the law guarantees that the posts officers leave due to disability, occupational disease or other health-related problems arising in the course of discharge of professional duties are to be reserved for them.