State Duma MPs back penalties for compliance with anti-Russian sanctions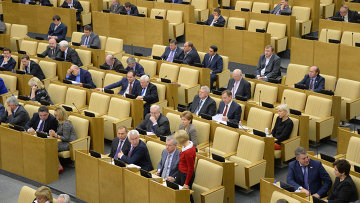 16:00 15/05/2018
MOSCOW, May 15 (RAPSI) – The State Duma adopted a draft law on punishment for abiding by and support of anti-Russian sanctions in the country's territory in the first reading on Tuesday, the statement published on the website of the parliament's lower house reads.
Under the bill, actions or inactivity aimed to adhere to sanctions imposed by foreign states against Russian nationals and companies would result in fines of up to 600,000 rubles (about $10,000), supervised release, community service or imprisonment for up to 4 years.
Moreover, the draft law stipulates punishment for deliberate acts contributing to imposition of sanctions against Russia. Thus, Russian citizens would face fines of up to 500,000 rubles, supervised release for up to 3 years, detention for up to 6 months or prison sentence for up to 3 years with a 200,000-ruble fine for such actions.
The bill was drafted by the State Duma Chairman Vyacheslav Volodin, Chair of the Federation Council Valentina Matviyenko and leaders of all parties of the parliament's lower house. Amendments are proposed to the Criminal Code of Russia.