Russian President toughens punishment for recruiting terrorists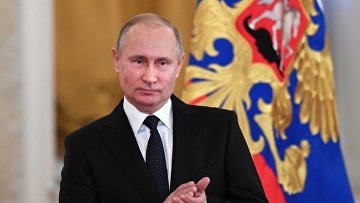 20:21 29/12/2017
MOSCOW, December 29 (RAPSI) – Russian President Vladimir Putin on Friday signed a bill toughening punishment for recruiting terrorists up to life sentence into law, according to the official website of legal information.
The State Duma adopted the legislative initiative on December 14. The Federation Council approved it on December 26.
The law is aimed to tighten counteracting financing and organizing terrorist and extremist activities. Crimes related to such financing or any form of inducing people to commit crimes of terrorist nature may result in penalties ranging from fines of up to 700,000 rubles (nearly $12,000) to life sentence.
The law also extensively defines "terrorism propaganda" term. Commitment of this crime would be punishable by up to 5 years in prison.
Currently, punishment for recruiting terrorists may reach as high as 10 years in prison.