Russian MPs propose to establish office of ombudsman for disabled people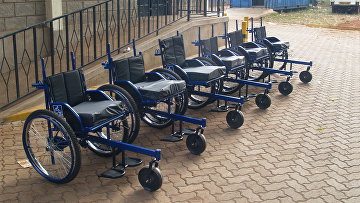 12:53 18/09/2017
MOSCOW, September 18 (RAPSI) – A bill establishing the office of ombudsman protecting rights of people with disabilities has reached the State Duma, according to the database of the lower house of Russia's parliament.
According to the bill's authors, there is a need for a system of organizational, financial, scientific actions coordinated by government to change disabled people's position in society. They believe that establishment of the ombudsman's office will allow the state to form, actualize and control policy in the sphere of support and protection of disabled people's rights.
The bill codifies legal status, goals and specification of the ombudsman's competence as well as guiding principles of the office. In accordance with the bill, the ombudsman will be appointed by the President taking into account opinions of civil organizations for the people with disabilities. The ombudsman will serve for five years and can't be appointed for more than two consecutive terms.
According to the draft law, the ombudsman is to review complaints filed by disabled people, participate in court hearings, request documents and information and visit prisons without permit from the facility's authorities. Also, the bill establishes offices for ombudsmen in Russia's regions.