State Duma passes bill on blacklists of passengers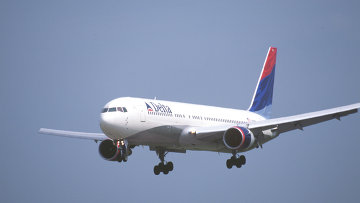 14:00 07/06/2017
MOSCOW, June 7 (RAPSI) – The State Duma has passed a bill allowing Russian airlines to create blacklists of passengers exhibiting aggressive behavior during the flights, in the second reading.
According to the bill, a provision allowing the airline or its representative to deny sale of tickets to a "blacklisted" person will be included into the Aviation Codex of Russia. The document reads that an aircraft pilot must write down a report containing information on incidents of disturbing behavior on board of a plane and present it to an airline's head. An additional copy of the report is to be given to a passenger.
An airline must include an aggressive passenger into the blacklist within 30 days after this person is found guilty of violating administrative or criminal laws by a court. Inclusion in the list may be appealed with a court as well. "Blacklisted" passengers must be removed from the list a year after a court's ruling.
It is noted that there are exceptional rules for certain situations. An airline must transfer "blacklisted" passengers to Russia from a place reachable only by a plane or if he is being deported from Russia to such place. Such passengers must also receive a right to buy tickets from an airline if they are travelling to a place of healthcare, or if they are accompanying disabled persons to the places of healthcare, or if they are travelling to a funeral. These reasons must be confirmed by presenting appropriate documents.