Putin toughens punishment for violations at sport stadiums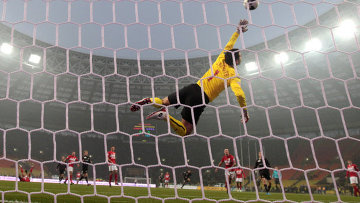 14:22 17/04/2017
MOSCOW, April 17 (RAPSI) – Russian President Vladimir Putin has signed a bill tightening punishment for violating rules of conduct by audience members during sport tournaments into law.
The document has been published on the official website of legal information.
The law would increase fines for violation of a ban on visiting sports venues on the date of running official competitions from 20,000 ($333) to up to 50,000 rubles ($833). Administrative detention for up to 15 days is an alternative punishment in such cases.
Major breach of rules of conduct by sport fans including wrongdoings posing a threat to personal security, life, health and safety of other visitors, which led to suspension or cancellation of a sporting event would result in fines of up to 20,000 rubles of administrative detention for up to 15 days plus prohibition from attending official competitions for up to 7 years. If the ban violated, a person would face fines of up to 50,000 rubles or administrative detention.
Foreign visitors or persons without citizenship guilty of violating rules at sport tournaments may be fined up to 20,000 rubles or detained for up to 15 days and then administratively deported from Russia. However, courts would be authorized to replace expulsion from the country with administrative ban on visiting sport tournaments for 1-7 years taking into consideration foreigners' law-abiding behavior, length of residing in Russia and marriage status.
Foreigners and persons without citizenship may be banned from entry into Russia during international sports events if they earlier had been found guilty of violating rules of conduct at sports tournaments.
The State Duma passed the initiative on April 7. The Federation Council endorsed it on April 12.