Federation Council approves bill on tougher punishment for unlawful pressure on business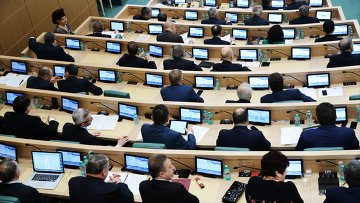 18:05 14/12/2016
MOSCOW, December 14 (RAPSI) – The Federation Council has approved a bill toughening officials' liability for unlawful persecution of businesses, announcement from the higher house of parliament reads on Wednesday.
The State Duma approved the bill on November 30.
Amendments are proposed to Russia's Criminal and Criminal Procedure codes.
Punishment for knowingly charging an innocent person with a crime is proposed to be increased from five to seven years in prison. Additionally, toughened liability is proposed to be introduced not only for actions related to charging a person with grave crimes but also those actions that cause a large-scale damage (exceeding 1.5 million rubles ($23,500).
It is noted that criminal liability is also in place for unlawfully launching a criminal case based on material or personal interest, which led to cancellation of entrepreneur activity or causing large-scale damage, being punishable by 5-10 years in prison.
Under the bill, inquiry into crimes connected with impeding legal entrepreneurial or other activities would be conducted by the Investigative Committee's investigators.