Council of Europe proposes package of measures aimed to put things right at stadiums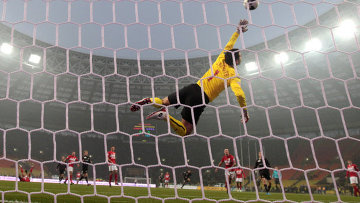 19:53 14/06/2016
MOSCOW, June 14 (RAPSI, Vladimir Yaduta) – The Saturday violent clashes between football fans in Marseille are absolutely unacceptable, says a message of the Secretary General of the Council of Europe (CE), Thorbjorn Jagland, introducing a package of measures aimed at the prevention of such incidents in the future.
"What happened in Marseille is absolutely unacceptable. Europe can and must do more to prevent this kind of violence. Governments [of CE member countries – ed.] must spare no effort," – Jagland said. The proposed measures focus on a qualitative step forward as concerns improvement of international police cooperation, including better information and data sharing between police forces and exchange of best practices. Another key aim of the package is to encourage police and local authorities to work with football clubs and supporters.
In order to promote safety at football matches and other sports events CE has drafted a new international treaty to be presented for signing on July 3.
It is expected that this document will replace the European Convention on Spectator Violence and Misbehavior at Sport Events and in particular at Football Matches, drawn up in 1985.
The draft treaty envisages, among other measures, checking that stadium infrastructure complies with national and international standards and regulations as concerns safety, especially during mass events.
Besides, various measures are foreseen to prevent and punish acts of violence and misbehavior; thus, instigators of violence may be banned from visiting sports events, restricted to travel abroad and be subject to other penalties notwithstanding the country, where such offences took place.
The clashes started in Marseille on June 12, after the match between Russian and English teams ended with 1:1 draw. About 30 Russian fans broke through the cordon of stewards and entered the sector with English fans and provoked a fight. Tension was in the Marseille air the whole day.
As a result, the Russian Football Union was fined with €150,000 and the Russian football team was issued a suspended disqualification until the end of Euro-2016.