Trust Bank sues former owners in London court for $830 million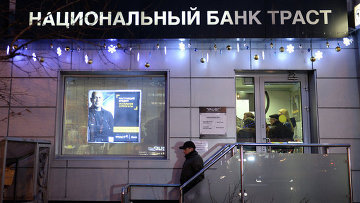 12:30 14/04/2016
MOSCOW, April 14 (RAPSI) – Trust Bank has filed a lawsuit with the London High Court demanding to collect $830 million in damages from former owners of the bank, Ilya Yurov, Nikolai Fetisov and Sergei Belyaev, RIA Novosti reported on Thursday citing press office of Otkritie Holding.
The claim was filed following a court decizion to freeze assets belonging to ex-shareholders. Such ruling has been delivered on the grounds that companies connected with the defendants, then owners of the bank, obtained credits amounting to $1 billion providing security worth nearly $150 million, according to the statement of Otkritie Holding.
These loans have been serviced prior to reorganization of Trust Bank in 2014; along with that the companies continued getting funds for repayment of earlier loans. The companies ceased paying when relending stopped.
Before lodging of the claim, in January, Trust Bank turned to the London High Court seeking to freeze accounts of ex-owners and suspend a deal stipulating free divestment of assets priced at $100 million, Otkritie Holding's press service said.
In late December 2014, the Central Bank of Russia decided to reorganize Trust Bank placing it under the temporary supervision of the Deposit Insurance Agency. FC Otkritie Bank, part of Otkritie Holding, was selected as a bridge bank. By the end of 2014, Trust Bank suffered a loss of 18.8 billion rubles ($293 mln).
As of December 1, 2014, its assets were estimated at over 290 billion rubles ($4.2 bln).
The Central Bank estimated that the bank's debts exceeded the value of its assets by 67.8 billion rubles ($984 mln).