MP suggests ban on foreign lawyers representing Russia in court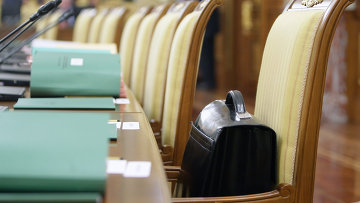 12:01 06/08/2015
MOSCOW, August 6 (RAPSI) – Lawmaker Vadim Solovyov (the Communist Party) is drafting a bill that would ban foreign attorneys from representing Russia's interests in international courts, as happened in the Yukos case, RIA Novosti reports Thursday.
Last year, the court issued several rulings in lawsuits by former Yukos shareholders against Russia. The Permanent Court of Arbitration in The Hague compelled Russia to pay the three companies representing the former co-owners of Yukos $50 billion in damages. The European Court for Human Rights (ECHR) ruled that Russia pay some $1.9 billion in damages for violating their rights to legal protection and fair trial.
In mid-June, several EU countries froze Russia's assets as the result of a lawsuit by former Yukos shareholders who won a trial at the Court of Arbitration in The Hague. The Russian Foreign Ministry released a statement saying that Moscow sees this action as a serious violation of international law and that the rulings would be appealed. Since then, Sergei Gavrilov, the head of the State Duma Committee on Property Issues, announced that he intended to draft a bill that would protect Russia's property abroad.
According to MP Solovyov, the Yukos case demonstrates that foreign attorneys that represent Russia cannot ensure adequate representation. Moreover, there are doubts as to whether they were objective and impartial and whether they had ulterior motives when they signed the documents under which Russia agreed to the court hearing under the Energy Charter Treaty, despite Russia's never having ratified the treaty.
The MP believes if only Russian citizens are allowed to represent the country in court, it will help protect Russia's national interests.
Solovyov is thus suggesting a legislation requiring that only Russian attorneys be allowed to defend Russia's interests in court while foreign lawyers could be involved as experts.