Fast food advertising in Russia could be restricted - report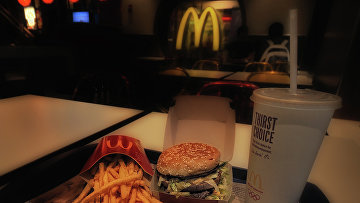 11:05 07/07/2015
MOSCOW, July 7 (RAPSI) – Vasily Shestakov, a member of the State Duma Committee for Physical Fitness, Sport and Youth Affairs, has proposed restricting advertisements for foods with a high sugar, salt or fat content in the media and in public places, Kommersant newspaper reported on Tuesday.
A bill amending the law on advertising will be submitted to the lower house soon.
These restrictions should encourage healthy eating habits among young people and prevent extra weight gain and health problems, such as high blood pressure, the newspaper writes, citing the bill. "The proposed amendments would equate fast food ads to alcohol advertisements," Shestakov told the newspaper.
The list of restricted foods could include sweet soft drinks, pastry, chips, margarine and certain kinds of sausages. The bill would prohibit advertising these food categories in the print media, on radio and television, and in audio and video products for children and teenagers. The restricted advertisements would be prohibited in the majority of public places, such as hospitals, schools, health resorts, theaters and circuses.
The MP has also proposed prohibiting BTL advertising, which builds brand awareness or drives sales through niche oriented specific offers (promotions) that include the distribution of unhealthy foods, Kommersant writes.
In 2014, Russian companies spent 22 billion rubles ($390mln) on advertising foods and soft drinks on national TV networks.