State Duma to consider weekly national anthem performance in schools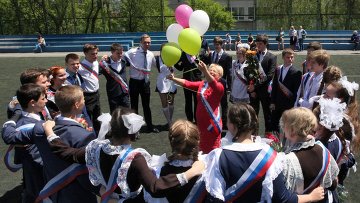 14:05 11/06/2015
MOSCOW, June 11 (RAPSI) - A member of the Liberal Democratic Party, Maxim Shingarkin, has submitted a bill to the State Duma that would require school ceremonies to include the Russian national anthem at the beginning of each school week, RIA Novosti reports this Thursday.
The bill's author explained that currently, the national anthem is performed in schools, both public and private, on the first day of every school year as well as at ceremonial events marking national and local public holidays. The anthem can also be played on other occasions if it is not against the law.
According to the explanatory note, it is necessary to play the national anthem not only on the first day of school but also at the beginning of every week, in order to promote patriotism and active citizenship, and respect for Russian national symbols.
Shingarkin notes that this practice already exists in several Russian regions.
The author believes that the proposed changes will encourage a patriotic upbringing.
In January 2015, the Kaluga Regional Ministry of Education issued an executive order On the Promotion of the Russian National Anthem at Kaluga Regional Educational Institutions. The executive order has received a lot of public attention but was supported by the Russian Ministry of Education and Science, the parliament member said.