Human rights council critisizes bill limiting foreign ownership in Russian media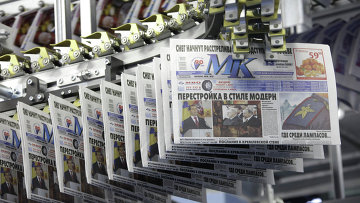 12:50 01/10/2014
MOSCOW, October 1 (RAPSI) - The Presidential Council for Civil Society and Human Rights says the bill limiting foreign ownership in Russian media outlets is in conflict with legislation and will not achieve its goals, Vedomosti newspaper reported on Wednesday, citing an expert conclusion sent to Federation Council Speaker Valentina Matviyenko.
On September 26, the State Duma adopted a bill in the second and third readings to limit foreign ownership in Russian media outlets, including print media, to 20%.
The Federation Council Committee on Constitutional Legislation has supported the bill, which Russia's upper house will consider on October 1.
Under the bill, foreign citizens, stateless persons and Russians with dual citizenship may not found media outlets. The restrictions will be effective on January 1, 2016.
However, the law on foreign investment in economic entities of strategic importance for national defense and security reads that foreign investors must request government approval to own 25% of the charter capital of strategic companies, which include media outlets. The head of the Human Rights Council, Mikhail Fedotov, said the government will be unable to issue such permits if the amendment lowers the limit to 20%.
Fedotov also pointed out that the new law could be avoided through a franchising management scheme or Kazakhstan's experience, where management is divided between several legal entities. Of these, the organization acting as the founding member, publisher and editorial board, which is in full compliance with the law, is managed by a legal entity that is not a media outlet but a content agency that could and will likely be founded on foreign money.
The council experts also believe that the possibility of suspending the operation of media outlets that is stipulated in the bill cannot be applied, because "the editorial, board, the editor-in-chief and journalists cannot be held responsible for the financial operation of the legal entity concerned."