Prime Minister Medvedev orders prompt changes to 'deoffshorization' bill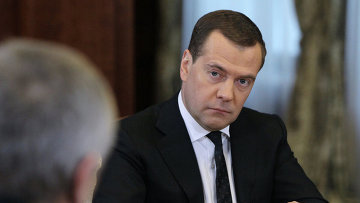 11:17 25/06/2014
MOSCOW, June 25 (RAPSI) - Prime Minister Dmitry Medvedev has given instructions to improve a bill on the country's deoffshorization and wants to see a report on the improvements before June 30, according to a statement on the government website.
Following a meeting with the management of the Russian Union of Industrialists and Entrepreneurs on June 18, the Finance Ministry, the Ministry for Economic Development and the Russian Union of Industrialists and Entrepreneurs are, within the amendments to the Tax Code on the taxation of controlled foreign corporations and the profit of foreign corporations, to develop a system to stimulate the transition of companies under Russian jurisdiction and to increase the profit threshold beyond which companies would be subject to the law.
The directive includes improving the procedure whereby companies will be recognized as controlled foreign corporations. A company will be recognized as a controlled foreign corporation if a Russian resident owns at least 50% of an entity plus one vote.
Previously, the Finance Ministry developed a bill that would require Russian individuals and legal entities that control offshore companies to pay taxes on their profits unless they are distributed profits. Owners of at least 10% of a foreign company would be subject to taxation.
Medvedev also instructed that the law's provisions, to take effect on January 1, 2015, be phased in gradually.
The involved agencies are also to establish a tax rate for foreign companies against the respective tax rate in Russia, to review criteria for the foreign countries covered by the new law as well as to evaluate its regulatory impact.