Russia not to impose sanctions over possible Kiev - EU association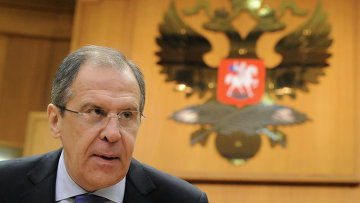 17:12 10/06/2014
ST. PETERSBURG, June 10 (RAPSI) - Russia will not introduce any sanctions against Kiev if Ukraine signs an association agreement with the EU, Foreign Minister Sergey Lavrov said at a news conference.
"Ukraine must make this choice independently. They must decide if they want to sign an agreement on an association and free trade area with the EU. If the decision is positive there will be consequences for the obligations that Ukraine committed to within the CIS free trade area agreement some time ago. Contradictions between these obligations and those that Ukraine will take on upon signing have been described in detail in a number of statements, including an interview with President Putin by foreign journalists," Lavrov said.
Lavrov added that Ukraine's right to choose is not disputable. "If they choose an association with the EU that contradicts a range of Ukrainian obligations within the CIS free trade agreement, any discounts that Ukraine receives in the CIS free trade zone will no longer be applicable. In trade relations with Ukraine, Russia will go back to treating Ukraine as a most favored nation. It is not a sanction but part of the normal trading process. We are not going to introduce any sanctions against Ukraine. We will return Ukraine to most favored nation status."
On February 22, radicals seized power in violation of the February 21 agreement on the settlement of the crisis, signed by Ukraine's opposition leaders and President Viktor Yanukovich in the presence of the French, German and Polish foreign ministers. The Verkhovna Rada announced the deposition of Yanukovich, reinstated the 2004 constitution and set early presidential elections for May 25, which were subsequently won by Ukrainian chocolate king Pyotr Poroshenko.