Ukrainian parliament revokes laws that incited riots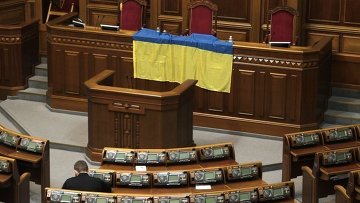 15:56 28/01/2014
KIEV, January 28 (RAPSI) – During a special session on Tuesday, the Ukrainian Parliament revoked a set of laws curtailing the activities of protesters, which - after having been passed earlier this month - incited riots in the country that left at least two protesters left dead, RIA Novosti reported.
The decision to curtail the controversial set of laws was upheld by 361 lawmakers, while only 226 votes were needed.
A series of laws aimed at imposing greater control over protests adopted by Parliament on January 16 gave rise to a violent wave of protests in the Ukrainian capital. A rally in central Kiev on January 19 turned violent when radicals attacked police.
As a result of the escalating tensions, over 200 law enforcement officers were injured, with dozens of police officers having been taken to hospitals, according to the Interior Ministry. Two protesters lost their lives in the clashes.
Ukrainian Prime Minister Nikolai Azarov declared his resignation on Tuesday in order to facilitate a peaceful solution for the ongoing political crisis.
In the meantime, the Ukrainian Parliament is expected to pass an amnesty bill to pardon those that participated in mass protests. However, protesters who committed grave crimes won't be subject to the law once it is adopted, Alexander Efremov from the leading Party of Regions told journalists. The authorities are interested most of all in bringing order back to the country and bringing to justice those who are responsible for deaths, according to Efremov.