EU-Ukraine association agreement hits snag over Tymoshenko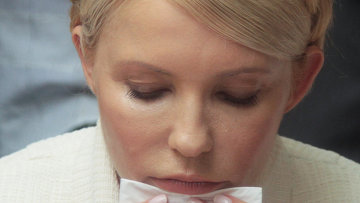 17:18 25/10/2013
MOSCOW, October 25 (RAPSI) – The European Union will not sign an association agreement with Ukraine until the "selective justice" issue concerning former Prime Minister Yulia Tymoshenko has been resolved, says Jose Manuel Barrozu .
The Tymoshenko case remains a focal point in Ukraine-EU relations in the lead-up to November's Eastern Partnership summit, where Ukraine hopes to sign the association agreement. The EU considers the prosecution of the opposition to be political and demands that Kiev should stop applying selective justice in such cases. The Ukrainian authorities have refuted such allegations.
In October 2011, Tymoshenko was sentenced to seven years in prison for abuse of power. The judge said she abused her powers when she signed a 2009 deal with Moscow under which Ukraine paid a high price for Russian gas. She also faces accusations in a high-profile murder case.
Ukraine's government on September 18 approved a draft European Union association agreement, moving the country one step closer to the final signing of such an agreement. Ukraine is one of several countries due to sign free trade agreements with the EU during a summit in Lithuania on November 28-29.