Putin makes regional authorities responsible for ethnic conflicts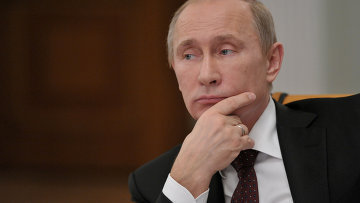 12:00 22/10/2013
MOSCOW, October 22 (RAPSI) - Russian President Vladimir Putin has signed into law a bill that assigns responsibility to the regional authorities for overseeing relations between various ethnic groups, the Kremlin press office said in a statement.
According to the law, municipal leaders may be fired for failing to stifle ethnic tensions.
The draft bill was submitted to the State Duma, the Russian parliament's lower house, last February. It aims to ensure guarantees for human rights and liberties regardless of race, nationality, faith and other issues. The draft empowers regional authorities to take care of ethnic minorities, their cultures and traditions, to take measures for sociocultural adaptation of immigrants, and to make efforts to prevent ethnic tensions.
The bill was adopted amidst growing concerns over a series of recent incidents which took place in Moscow.
Russia's anti-migration sentiment reached its climax this summer when an incident at an open-air market in Moscow left a police officer with a broken skull. A police officer was beaten up when he tried to arrest a 25-year-old Dagestani native wanted on suspicion of trying to rape an under-aged girl.
Another incident occurred a week before with anti-migrant riots that targeted a vegetable warehouse in the city's south. Violence erupted after protests over the fatal stabbing of a 25-year-old. Hundreds of people were detained by police. Around 70 people have been charged to date with minor administrative offenses.
In the meantime, crimes committed in Moscow by members of gangs organized either abroad or within Russia's own ethnic minority communities have skyrocketed. This year 805 crimes committed by the ethnic gang leaders have been already investigated, according to Moscow Police Chief Anatoly Yakunin.
On Monday, a female suicide bomber detonated a bomb in a bus in the southern Russian city of Volgograd killing 6 people and injuring 30.