Greenpeace activists breached international law - Putin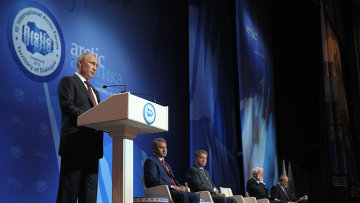 15:30 25/09/2013
Salekhard, September 25 (RAPSI) - Greenpeace activists involved in staging a protest at a Russian offshore oil platform last week technically tried to seize the rig by force, thus breaching international law, President Vladimir Putin said Wednesday at a forum on Arctic exploration in the northern Russian city of Salekhard.
It is "obvious they're not pirates," he said of the Greenpeace activists, but added that they had been trying to seize the rig by force and authorities had responded with due concern for security.
Putin suggested that Greenpeace activists take part in the Arctic exploration forum and voice their concerns in a civilized way.
The oil rig targeted by the activists is operated by Gazprom Neft Shelf, a subsidiary of Russian oil and gas giant Gazprom that holds the license for the Arctic field.
The Arctic Sunrise ship was seized by Russian border guards Thursday in international waters, within Russia's exclusive economic zone, a day after two Greenpeace activists scaled the Prirazlomnoye drilling rig in the Pechora Sea, the southeastern part of the Barents Sea.
Russian investigators said the vessel was involved in maritime piracy, a crime punishable by up to 15 years in prison, and that an investigation would be conducted to consider the allegations.
Media reports claim that some 30 people, including six Britons and one American, were on board the vessel.
Investigative Committee spokesman Vladimir Markin confirmed that investigators would question foreign nationals that were onboard the ship once they are provided with translators and lawyers. Markin told RIA Novosti on Wednesday that the classification of the crime as piracy was not final and might change during the course of the investigation.