Russia's migration head seeks to ease rules for skilled workers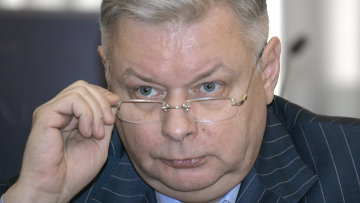 15:57 16/07/2013
MOSCOW, July 16 (RIA Novosti) – Russia's top immigration official on Tuesday suggested easing regulations for skilled immigrants to help them obtain legal status.
Federal Migration Service (FMS) head Konstantin Romodanovsky said Tuesday that the agency plans this year to present the government with a package of new amendments that would ease regulations for skilled laborers willing to work in Russia.
One of the initiatives that would significantly simplify existing legislation would give immigrants working in Russia for more than 90 days temporary residence permits, a process that can currently take several years.
"There will also be advantages for businessmen and young people seeking Russian citizenship," Romodanovsky said at a meeting at the Russian Chamber of Commerce and Industry. He added that the FMS suggests introducing two-year temporary residence permits for skilled workers and three-year permits for highly skilled specialists.
Romodanovsky said the new measures would help Russia attract more professionals from abroad.
Some 10 million immigrants have entered Russia this year, the FMS head said on Tuesday, adding that immigration had increased by 37 percent in the past four years.
Most immigrants to Russia come from former Soviet republics in Central Asia, and can enter the country without a Russian visa.
Romodanovsky also reiterated his earlier proposal to abolish quotas setting a maximum figure on the number of foreign workers allowed to be employed in Russia. He said that vacancies should first be offered to Russians, and if no Russians apply, employers should be able to hire immigrants. The idea was rejected by the Labor Ministry earlier this month as potentially damaging to the Russian labor market.