Russian senate to discuss fingerprinting new arrivals without visas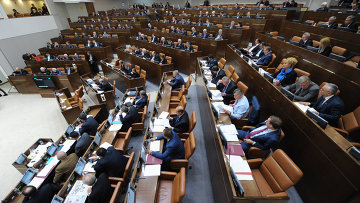 16:41 11/06/2013
MOSCOW, June 11 (RAPSI) - The upper house of parliament plans to discuss with security agencies and the police the idea of fingerprinting new arrivals, Ruslan Gattarov, the co-author of the initiative and the chairman of the Federation Council's ad hoc commission on information society, told journalists on Tuesday.
"On June 13, we will establish a working group to discuss the initiative at the commission's venue," he said. "The group's composition will be determined at the founding meeting. We have invited representatives from the Federal Security Service, the Federal Migration Service, the Foreign Ministry, the Interior Ministry, the Finance Ministry and the Communications Ministry."
Gattarov said the fingerprinting of all new arrivals entering Russia without a visa should help monitor compliance with migration legislation. The bulk of those who violate migration legislation are CIS citizens who enter Russia using their national passports, he said. It is impossible to monitor the length of their stay because the customs agencies are prohibited from stamping their passports.
Gattarov said special facilities could be established at border checkpoints to register their biometric data. Similar mobile facilities can be used on trains. Fingerprinting will not seriously complicate the border control procedure, Gattarov said, citing US and UK experience in this area.
The Federation Council earlier planned to submit to the State Duma a bill on fingerprinting new arrivals from visa-free countries by the end of 2013. Allocations for a three-year program, which should be launched in 2015-2016, have been estimated at 10 billion rubles ($310 million).