Russia mulls bill that would allow ousted MPs to appeal impeachment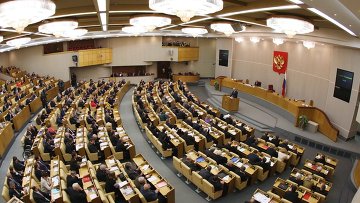 14:44 19/03/2013
MOSCOW, March 19 - RAPSI. The Russian government reported Tuesday that a legislative commission has approved a draft law that if enacted would allow lawmakers to appeal the impeachment process.
The law drafted by the Justice Ministry gives MPs the right to appeal to court to reverse the State Duma and Federation Council resolutions that strip them of their powers. The draft law also suggests that the MPs should retain their parliamentary immunity until the court rules on their appeal against the houses' resolutions.
According to the draft law, the MPs should have the right to protest the action or inaction of the State Duma regarding the early termination of an MP's authority if the parties in parliament have reliable information that said person engages in business or any other paid activities.
The State Duma stripped MP Gennady Gudkov of his mandate last year after the investigative authorities accused him of engaging in commercial activity.
According to Russian legislation, members of parliament are not permitted to be involved in business. Gudkov, who took part in the protest rallies last December, has denied the charges.