Russia to draft new measures to help families with children - Medvedev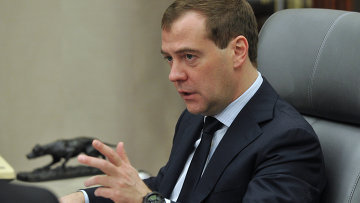 16:43 14/02/2013
KRASNOYARSK, February 14 - RAPSI. Russian Prime Minister Dmitry Medvedev announced plans to provide financial support for families that have more than one child, according to Prime News Agency reports.
The government will draft new measures to support families who will have more children after the maternity capital project ends, Medvedev said at a meeting with the ruling United Russia party's Krasnoyarsk branch.
What is popularly known as Maternity Capital is issued to families that had a second child after January 1, 2007, or a third or subsequent children, provided the family did not receive the money after giving birth to their second child.
The money can only be used to improve the family's living conditions, to increase one of the parents' pension payments, or to pay for a child's education.
The maternity capital is 408,900 rubles ($13,600) in 2013. Allocations from the Pension Fund's budget have been approved at 200 billion rubles ($6.65 billion) for this purpose.
Medvedev added that the new project is not yet over. It has been rather effective, even though financial allocations are not used in the West as an incentive to up the birthrate.