US 'regrets' Russian adoption ban bill headed to Putin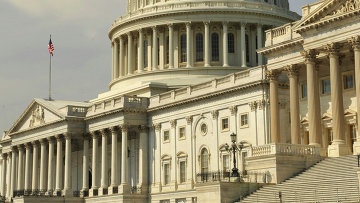 10:56 27/12/2012
WASHINGTON, December 27 - RAPSI. The United States said Wednesday that it regrets Russian lawmakers' approval of a bill that would ban US adoptions of Russian children, saying the legislation would deny many young people a childhood outside state custody.
Russia's upper house of parliament on Wednesday unanimously voted in favor of the legislation, which is part of Russia's legal retaliation to the US Magnitsky Act. The newly minted US law denies visas to Russian officials deemed by Washington to be complicit in human rights abuses and freezes their US assets.
"It is misguided to link the fate of children to unrelated political considerations," US State Department spokesman Patrick Ventrell said of the Russian bill in a statement released Wednesday.
The Dima Yakovlev law was passed in retaliation for the US Magnitsky Act, stipulating visa sanctions for Russians who are believed by the senate members to have been involved in human rights violations. The law evoked severe criticism from the Russian lawmakers.The Russian public has been largely supportive of the bill, with 56 percent of respondents in an opinion poll conducted by the Public Opinion Foundation (FOM) saying they backed a ban on US nationals adopting Russian children.
Ventrell said Wednesday that US families have given homes to more than 60,000 Russian children over the past 20 years. "The bill passed by Russia's parliament would prevent many children from enjoying this opportunity," Ventrell said.
If Putin signs the bill, it will become law on Jan. 1, halting the adoption of 46 Russian children by US families whose cases are currently being processed, said Pavel Astakhov on Wednesday, Russia's ombudsman for child rights.
The bill headed for Putin's desk is named after a two-year-old Russian boy, Dima Yakovlev, who died in 2008 after being left in a car by his adoptive US father. The father was later acquitted of manslaughter.
Russian officials have repeatedly expressed concern about the safety of Russian children adopted by US parents, and they have cited 19 cases in which Russian children have died at the hands of their adoptive American parents.
Critics of the bill say an overwhelming amount of American/Russian adoptions are successful and that child abuse is a pressing issue inside Russia.