US is only hurting itself by clinging to Jackson-Vanik amendment, attorney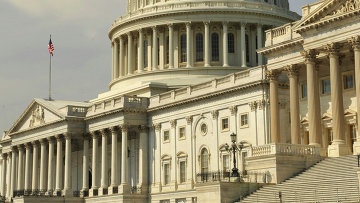 12:19 29/08/2012
NEW-YORK, August 29 - RAPSI. Following Russia's accession to the World Trade Organization (WTO), the preservation of current United States legislation directed against the development of trade relations with Russia only undermines US interests, says Edward Mermelstein, managing partner with Rheem Bell & Mermelstein LLP.
Russia formally became the 156th member of the WTO last Wednesday, when the protocol on Russia's accession to the Marrakech Agreement establishing the WTO took effect after 18 years of negotiations.
According to Mermelstein, under the new conditions for Russia's accession to the WTO, US business, limited by the Jackson-Vanik amendment, found itself in a most vulnerable position, at the tag end of companies from the European Union and Asia, thus losing its competitive advantages.
He added that in fact the US is only damaging itself with this amendment, which should have been overturned and forgotten long ago.
He added that Russia, which reduced its tariffs for 155 WTO member states by half, has the right to impose higher rates for US companies.
The US administration has long been urging its congress to grant Russia a status conducive to normal trade relations by cancelling the Jackson-Vanik amendment.
However many representatives and senators have stated that they would support granting Russia a normal trade regulations only in combination with the Magnitsky Act.
The Magnitsky Act would impose visa and financial sanctions against Russian nationals believed to have been involved in the death of Sergei Magnitsky, who passed away in pre-trial detention in 2009.
Previously, Ways and Means Committee Ranking Member Sander Levin (D-Mi.) said that the House of Representatives did not have enough time to consider the bills to withdraw the Jackson-Vanik amendment, crucial for normalizing trade relations with Russia, and at the same time to adopt the Magnitsky Act before the presidential and congressional elections in November. The presidential and congressional elections will both be held on November 6.
The Jackson-Vanik amendment was adopted by Congress in 1974 and imposed restrictions on trade with the Soviet Union. The amendment was a response to the lack of the freedom to emigrate in the Soviet Union. At the moment, the amendment is still formally valid, however, since 1989, the United States has annually placed a moratorium on it and the current administration has repeatedly promised to secure its official withdrawal.