U.S. House of Representatives committee supports Jackson-Vanik withdrawal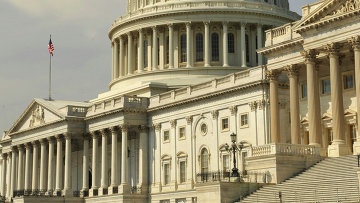 12:20 27/07/2012
WASHINGTON, July 27 - RAPSI. The House Committee on Ways and Means supported an act during its meeting on Thursday repealing the Jackson-Vanik amendment, which restricts US-Russian trade, thereby establishing normal trade relations with Russia.
According to estimates, the amendment's withdrawal will allow the United States to double its exports to Russia by up to $19 billion within the next five years. The draft was submitted by the committee head Dave Camp (R-MI) and Ranking Member Sander Levin (D-MI).
Under the new act, the special envoy for trade will make an annual report to the committee on Russia's observation of its obligations as a WTO member. If it is found that Russia was unable to meet some of these obligations, the envoy will put forward his proposals for solving issues.
Many congressmen and senators are determined to use the need for the cancelling of trade restrictions so as to ensure a swift adoption of visa and financial sanctions against the Russian nationals who are believed to be involved in the death of Sergei Magnitsky, an auditor for Hermitage Capital Management investment fund, who passed away while being held in jail in 2009.
They have stated that they would support granting Russia a normal trade regulations only in combination with the Magnitsky act.
The Jackson-Vanik amendment was adopted by Congress in 1974 and imposed restrictions on trade with the Soviet Union. The amendment was a response to the lack of the freedom to emigrate in the Soviet Union. At moment, the amendment is still formally valid, however, since 1989, the United States has annually placed a moratorium on it and the current administration has repeatedly promised to secure its official withdrawal.