Two terrorist group members convicted in St. Petersburg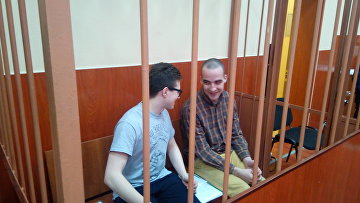 12:19 22/06/2020
MOSCOW, June 22 (RAPSI) – Two members of a St. Petersburg cell of a group known as Set, meaning Network, banned in Russia as terrorist, on Monday were found guilty of participation in a terrorist group and keeping of explosives, the United press service of St. Petersburg courts reports.
Kazakhstan national Victor Filinkov was sentenced to 7 years in custody; Russian citizen Yuly Boyarshinov received 5.5 years behind bars.
The case was heard by the Second West District Military Court in a courtroom of the First West District Military Court in St. Petersburg.
Prosecutors on June 17 demanded 9 and 6 years in jail for the defendants respectively.
According to investigators, the terrorist group members were plotting to overthrow the government and commit terrorist attacks.
Earlier, eight other defendants were sentenced in Russia's Penza to prison terms ranging from 6 to 18 years.
Three others were arrested in St. Petersburg. Filinkov pleaded not guilty. Boyarshinov admitted guilt noting that he entered the organization as antifascist and attempted to escape from it when she read the organization's rules and principles calling to create militant cells to insurrect and commit terrorist attacks. The third one, Igor Shishkin also pleaded guilty and was sentenced to 3.5 years in jail.