Russian Constitutional Court confirms owners' right to provide houses for acts of worship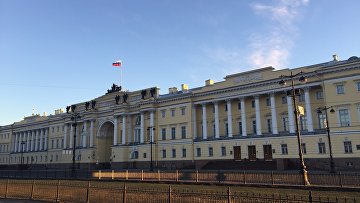 15:00 14/11/2019
ST. PETERSBURG, November 13 (RAPSI, Mikhail Telekhov) – Russia's Constitutional Court has ruled that religious services and ceremonies in dwelling houses situated on plots of land for subsidiary farming are to be freely held with consent of owners, RAPSI correspondent reports from the courtroom.
According to the Court, the ruling is in agreement with the dual function of housing intended to meet not only material, but also spiritual needs of citizens; at the same time, the worshipers are to respect the rights and lawful interests of other persons and fully comply with the housing rules.
The applicant in the case challenged constitutionality of certain provisions of the Land Code of the Russian Federation concerning the liability of land owners for improper use of their plots. The woman disputed an administrative fine imposed on her for permitting a religious organization to periodically hold services in her house and letting the congregation to register it as its official address, what was interpreted by the registering authorities as misuse of the plot.
The applicant believed that the respective provisions of the Code did not correspond to the Constitution as they violated her right to freely own and use her property, as well as her right to freedom of conscience and religion.
Although not finding the provisions of the Land Code unconstitutional, the Court ruled that religious organizations could be officially registered in residential properties on condition owners thereof had no objections. The fact of such a registration, according to the Court, did not result in the transformation of a dwelling into administrative premises of a religious organization, and therefore could not be interpreted as misuse of a plot of land.
The case of the applicant is to be retried, the ruling reads.