Russian Supreme Court upholds sentence of 2004 presidential office takeover convicts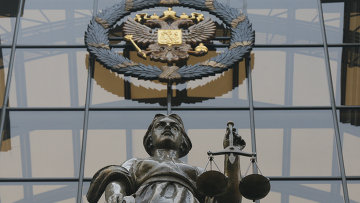 11:51 25/09/2019
MOSCOW, September 25 (RAPSI, Kirill Ryabchikov) – The Supreme Court's Presidium on Wednesday refused to overturn sentence in a case against 39 members of the banned National Bolshevik Party convicted of an attack against the Russian presidential administration in 2004, RAPSI reported from the courtroom.
The Presidium held that the case be resumed but upheld the sentence.
The court therefore took the side of the Prosecutor General's Office and dismissed a motion filed by lawyer Dmitry Agranovsky, who asked to reopen the case and immediately close it due to the lack of criminal elements the defendants were convicted of.
The Supreme Court's Presidium considered the case of 15 years ago because the court's chairman Vyacheslav Lebedev made a submission over its reopening following a ruling of the European Court of Human Rights. The ECHR stumbled at the accurateness of judgments of Russian courts as defendants were held in detention during the investigation and in courtroom's metallic cages during the trial.
However, the high instance formally reconsidered the rulings of Moscow courts and upheld them.
On December 14, 2004, 29 activists of the National Bolshevik Party entered the building of the public reception office of the presidential administration and obstructed its work. In 2005, Moscow's Tverskoy District Court gave 31 defendants suspended terms; 8 others received prison sentence ranging from 1.5 to 3.5 years.
Later, the ECHR held that Russian authorities committed violations during investigation and trial and awarded compensations to the defendants.
In 2007, the National Bolshevik Party was banned in Russia as extremist by a court order.