Ex-banker Muhiyev sentenced to 11 years in prison in $560 mln embezzlement case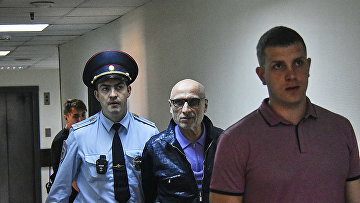 16:56 29/08/2019
MOSCOW, August 29 (RAPSI) – The Moscow Tverskoy District Court has sentenced former banker Magomed Muhiyev to 11 years in general regime penal colony in a criminal case over 37 billion rubles (about $560 million) theft of funds of clients of nine credit organizations, the press-service of Russia's Investigative Committee informs on Thursday.
Muhiev was also fined 9.5 million rubles ($136,000 at the present exchange rate). Yet another defendant was sentenced to four years in prison, other defendants were given suspended sentences.
The defendants, according to their roles in the case were found guilty of serious fraud, as well as misappropriation and embezzlement on an especially large scale.
According to the court and investigators, Muhiyev and his coconspirators organized a criminal network, which in 2014 and 2015 controlled nine credit organizations in Moscow, including Antalbank, Lada-Credit, Greenfieldbank, Doris-bank, Sodruzhestvo bank, Mezhregionbank, Regional bank of savings, NST-bank, and Maximum bank.
These banks aggressively worked together to attract funds of their clients, promising them higher income. Later, these funds were embezzled via bad credits and sham deals. The total amount of damages made 37 billion rubles ($560 million).
In the framework of the case, defendants' assets amounting to over 1 billion rubles (about $15 million) was attached.
The ex-banker was arrested by officers of the Interior Ministry's Economic Security and Anti-Corruption Department in 2016 when he was trying to leave Russia.