Trial of ex-official Kuznetsov to be held on general terms despite guilty plea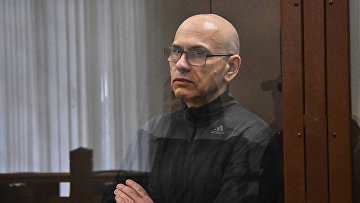 13:26 16/08/2019
MOSCOW, August 16 (RAPSI, Nikita Shiryayev) – The Basmanny District Court of Moscow will consider an 11-billion-ruble (nearly $200 million) embezzlement case against the former Finance Minister of the Moscow Region Alexey Kuznetsov in a prescribed standard manner despite his plea of guilty, RAPSI reports from the courtroom.
A prosecutor on Friday asked the court for it. According to the prosecution, criminal actions by Kuznetsov resulted in serious violations of rights of the society and the state and led to a 14-billion-ruble damage; and the accused has hidden abroad for a long time.
In late July, the former official pleaded guilty. Therefore, his case was to be considered under a special procedure without examining evidence.
Earlier on Friday, the court dismissed a defense motion to drop 14 charge counts against ex-Finance Minister of the Moscow Region.
Kuznetsov stands charged with embezzlement, money laundering and fraud.
The former official, who fled abroad in 2010, was extradited from France to Russia in January 2019.
According to investigators, from 2005 to 2008, a group organized by Kuznetsov unlawfully obtained the right to recover debts of enterprises operating in the housing and utilities sector of the Moscow Region and embezzled funds in the amount of more than 11 billion rubles of the Moscow Regional Investment Trust Company.
Other defendants in the case have been already convicted and sentenced. Ex-deputy finance minister of the Moscow Region Valery Nosov has received 14 years and 9 months behind bars. Ex-CEO of the Moscow regional government's Moscow Regional Trust Company Vyacheslav Telepnyov has been given 10 years in prison.
Moreover, in January 2018, Moscow's Basmanny District Court sentenced the U.S. citizen, real estate mogul and ex-wife of Kuznetsov Janna Bullock to 11 years in prison in absentia for embezzlement.