All Ukrainian sailors accused of illegal border crossing to stay jailed till late October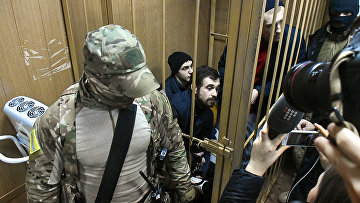 19:01 17/07/2019
MOSCOW, July 17 (RAPSI) – Detention of another 11 Ukrainian sailors involved in the case over illegal border crossing in the Kerch Strait was on Wednesday extended until late October by Moscow's Lefortovsky District Court.
Earlier, the court prolonged detention of a group of 13 sailors charged in the case until October 24, according to the court's press service.
The hearing was held behind closed doors.
On November 25, Russian border guard officers had to engage a weapon to stop unwarranted maneuvers of three Ukrainian ships in Russia's territorial waters in the area of Kerch Strait. The ships were seized while 24 crew members were arrested. Three sailors were wounded.
Simferopol and Kerch courts ruled the sailors be detained. On November 30, all of them were transferred to Moscow.