Moscow City Court upholds detention of Togliattikhimbank chairman Alexander Popov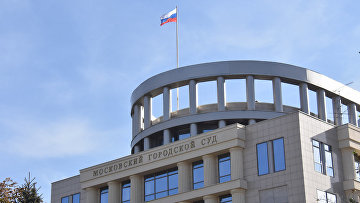 14:15 04/07/2019
MOSCOW, July 4 (RAPSI) - The Moscow City Court has upheld the decision to detain chairman of Togliattikhimbank Alexander Popov for two months, senior investigator for especially important cases Mikhail Tumanov has told RAPSI.
Popov was sent to pretrial jail on May 31 by an order of Basmanny District Court of Moscow. The banker appealed against the order, without success.
He was arrested at Vnukovo airport on criminal charges linked to the establishment of an organized criminal syndicate by senior officials of Togliattiazot and affiliated entities.
Popov stands charged with creation of an organized criminal syndicate and participation in it using an official position (part 3 of article 210 of Criminal Code of the Russian Federation), large-scale fraud (part 4 of article 159) and large-scale non-payment of taxes (part 2 of article 199).
A lawyer for the chairman of Togliattikhimbank Oleg Kononenko confirmed that he was arrested at one of the Moscow airports.
"Yes, that is true, on May 31 Mr. Popov was arrested, basically removed from flight after undergoing security screening. He was then taken to an Investigative Committee's office where a detention report was drawn up and charges laid," the lawyer said.
He added that Popov was going on vacation but had to return by June 6, the date he was called in for questioning by the investigator.
Kononenko said that Popov was going on vacation alone, without family.
Investigators claim that Popov played a key role in criminal schemes for illegal profit withdrawal from Togliattiazot, which caused damage exceeding 85 billion rubles (nearly $1.4 billion), as well as the stripping of most valuable assets along with land plots, which caused about 2 billion rubles in damage to shareholders and the enterprise.
Media reports revealed that in 2005-2009 "under the supervision of Alexander Popov, who provided banking and monetary services to the criminal organization," the bank performed a transaction of 92.4 million rubles from the account of Tomet LLC to the account of Togliattiazotunder the acquisition contract for immovable property and ammonia production unit. As a result, Popov and fellow criminal syndicate members "were empowered to win and wear Togliattiazot's real property and ammonia unit N7 equipment as if owned."
Moreover, investigators claim that Popov participated in financial operations in 2008 which allowed members of the criminal syndicate to avoid a total of 320 million rubles in taxes. Essentially, two limited liability companies controlled by the defendants sold Togliattiazot shares to their accomplices at a price understated by a factor of hundreds.
A representative of the Investigative Committee said at the Basmanny District Court that "Popov had obtained Dominican Republic's passport, he possesses considerable financial assets, enjoys financial support from wanted members of criminal syndicate and was about to escape the law." Before the arrest, Popov had a flight scheduled for Tbilisi, Georgia.
JSC Uralchem, recognized as a victim in the Togliattiazot embezzlement case, claims that the money stripped by former Togliattiazot executives from the enterprise were deposited with the bank run by Popov.
"To conceal the crime and launder criminally-obtained money, the syndicate utilized illicit financial schemes carried out through Togliattikhimbank. Members of the syndicate deposited the embezzled profit into the accounts of offshore entities with this financial institution at high interest rates, acquired Togliattikhimbank bank-bills with interest accrual to make the source of the money appear legal," the statement of the company reads.
Furthermore, both Togliattiazot and Nitrochem Distribution AG had operating accounts in the bank nominated in rubles and carried out all transactions with each other through Togliattikhimbank.