Russian ombudsman seeks meeting with journalist Vyshinsky in Kiev detention center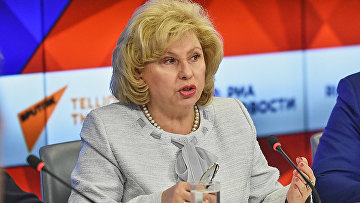 11:45 14/06/2019
MOSCOW, June 14 (RAPSI) – Russia's High Commissioner for Human Rights Tatiana Moskalkova during a recent meeting with her Ukrainian colleague Lyudmila Denisova asked for visiting journalist Kirill Vyshinsky in a Kiev detention center, the ombudsman's press service told RAPSI on Friday.
According to Moskalkova, prosecution of Vyshinsky started during the high of repressions against Russian journalists inspired by ex-president of Ukraine Petro Poroshenko and became a shining example of anti-Russian xenophobia and human rights violation.
The ombudsman also projected hope that human rights, humanism and mercifulness have their true meaning for elected president Vladimir Zelensky.
The editor-in-chief of RIA Novosti Ukraine news agency Vyshinsky, who has Ukrainian and Russian citizenship, was arrested in Kiev on May 15, 2018 on suspicion of treason and placed in detention. The journalist's detention has been repeatedly extended ever since.