Father of former anti-corruption official sentenced to 4 years for embezzlement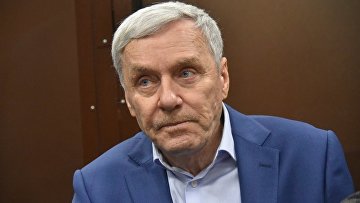 12:40 29/04/2019
MOSCOW, April 29 (RAPSI) – Viktor Zakharchenko, the father of an infamous former Russian anti-corruption official involved in a bribery case, on Monday received 4 years in prison for embezzlement, RAPSI reports from Moscow's Meshchansky District Court.
Additionally, he was fined 800,000 rubles ($12,500).
Ex-board chairman of the Moscow Hypothec Agency bank Vladimir Koryevkin was sentenced to 4.5 years behind bars and a 900,000-ruble fine ($14,000).
Prosecutors earlier demanded 5 years behind bars and a 500,000-ruble (about $8,000) fine for Zakharchenko. The court was also asked to give Koryevkin 6 years in prison with the same fine.
According to investigators, the father of Dmitry Zakharchenko was fraudulently employed at the Moscow Hypothec Agency bank but did not do any actual work. Damage caused to the bank reached as high as 5 million rubles ($80,000). Investigators believe that Koryevkin's actions caused damage estimated at 1.5 million rubles (over $23,000).
The bank recognized as injured party in the case filed a 12.3-million claim against the defendants.
The case against Viktor Zakharchenko was separated from the case of his son Dmitry Zakharchenko.
Ex-Russian anti-corruption official Dmitry Zakharchenko was arrested on September 8, 2016. During searches at the apartment belonging to Zakharchenko's sister law enforcement officers found around 9 billion rubles (about $140 million). He denied any relation to seized funds. Zakharchenko was charged with receiving a 7-million-ruble ($110,000) bribe from an unknown source, abuse of office and hindering the conduct of preliminary investigation. Later, it was revealed that he is charged with two more instances of corruption crimes.