Victim in Russian footballers' case not to demand compensation for harm caused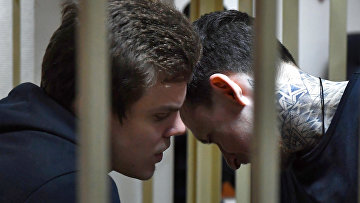 15:35 17/04/2019
MOSCOW, April 17 (RAPSI) - Ministry of industry and trade official Denis Pak would not file a claim for compensation for moral and physical harm against Zenit St. Petersburg's football player Alexander Kokorin and Krasnodar's Pavel Mamayev, the victim said during questioning in Moscow's Presnensky District Court on Wednesday.
Pak said that he would leave the defendants' punishment to the court's discretion, a RAPSI correspondent reports from the courtroom.
The case victim also noted that he had correctly admonished the footballers and his friends before a fight.
The defendants' lawyers in turn insist that the fight in a coffee bar was provoked by Pak's obscenities towards Alexander Kokorin.
On Wednesday, the Moscow City Court upheld extension of detention of the footballers and two other defendants, Kokorin's younger brother Kirill and children's football coach Alexander Protasovitsky, until September 25.
The four men were arrested on October 11 and charged with hooliganism, battery and intended bodily injury.
The defendants initiated two fights in central Moscow in the early morning of October 11. According to the police, a driver of a Russian TV journalist received a nose fracture during the first incident on a street in central Moscow.
Two hours later, Ministry of industry and trade official Denis Pak and CEO of the Central Scientific Research Automobile and Automotive Engines Institute Sergey Gaysin were assaulted by the footballers in a coffee bar and had to undergo medical treatment, the police stated. Pak reportedly sustained a concussion. The café's video records showed one of the sportsmen beating up Pak with chair.
The footballers pleaded partially guilty to an incident with the driver. According to attorney Igor Bushmanov representing Mamayev, his client has paid out damage caused to the beaten driver.