Ex-minister Abyzov's $7 million seized as part of embezzlement case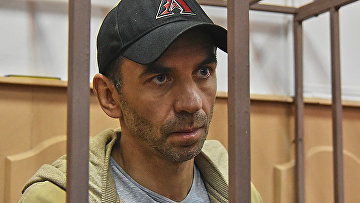 10:56 11/04/2019
MOSCOW, April 11 (RAPSI) – Moscow's Basmanny District Court has seized 437 million rubles ($7 million) deposited in the bank accounts of ex-Russian Minister for Open Government affairs Mikhail Abyzov, who stands charged with 4-billion-ruble ($62 million) embezzlement and organizing a gang, the court's spokesperson Yunona Tsareva has told RAPSI.
Moreover, the court has seized two land plots and cottages in the Moscow Region, three flats, four rooms and a car parking space in Moscow belonging to the former minister, Tsareva has added.
On April 3, Moscow's court detained Abyzov until May 25. The defendant's motion for release on a 1-billion-ruble bail ($15.5 million) was dismissed.
According to investigators, between April 2011 and November 2014, Abyzov, the owner of several offshore companies, organized and headed a criminal group. The defendant along with his accomplices allegedly embezzled 4 billion rubles from Novosibirsk Region's Siberian Energy Company and Regional Electrical Services generation and transmission corporations and transferred the money abroad.
A criminal case was opened against Abyzov on March 25. The former minister was arrested the next day. He pleads not guilty.
Also, on March 26, the court considered investigators' motions to detain other alleged members of the criminal group including president of the Novosibirsk Regional Sambo Federation Nikolay Stepanov, board chairman of the First Construction Fund Alexander Pelipasov, deputy CEO of Ru-Com company Maxim Rusakov and finance director of REMIS firm Galina Fraidenberg. According to the Investigative Committee, one more defendant Sergey Ilichev absconded investigators.