Ex-museum director's acquittal of non-return of ancient icons from U.S. to Russia upheld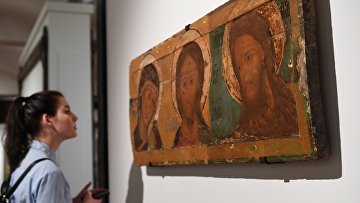 17:28 03/04/2019
MOSCOW, April 3 (RAPSI) – The Moscow City Court on Wednesday upheld acquittal of ex-director of a private non-profit Museum of Russian Icons Elena Knyazeva in a case over failure to return 16 orthodox icons of XVI-XVIII centuries from the U.S. to Russia, RAPSI reports from the courtroom.
Knyazeva was acquitted for absence of a crime in her actions in February.
According to investigators, the woman has entered into a criminal conspiracy with members of a gang organized by a foreign citizen. On September 30, 2010, she filed a declaration for temporary export of 16 orthodox icons of XVI-XVIII centuries to hold the exhibition "From Russia With Love" in the U. S. In November 2015, the term of temporary export expired but icons have never been submitted to the Moscow Customs.
She has been charged with non-return of cultural values to Russia committed by an organized group. She has pleaded not guilty.
In December 2017, the court sent the case back to prosecutors. Therefore, the case again reached court only in September 2018.
During the investigation, all icons have been returned to Russia.