Former mayor of Nizhny Novgorod sentenced to 10 years in penal colony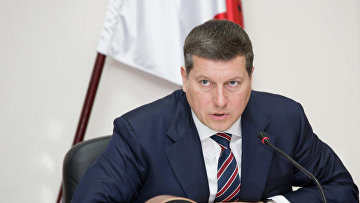 17:53 07/03/2019
MOSCOW, March 7 (RAPSI) – Former mayor of Nizhny Novgorod and vice-speaker of the regional parliament, Oleg Sorokin, has been sentenced to 10 years in high security penal colony by the Nizhegorodsky District Court of the city of Nizhny Novgorod, a statement on the official website of the Russian Investigative Committee reads on Thursday.
The court has also imposed a 460 million rubles (about $7 million at the current exchange rate) fine on Sorokin; after release, he will not be able to hold official positions for two years, the decision reads.
Together with the ex-mayor, two senior police officers, Yevgeny Voronin and Roman Markeyev were sentenced to 5.5 and 5 years in high security prison. The defendants, the court has established, took part in the violent treatment of an alleged informer when investigating an attempt on Sorokin's life in 2004.
Besides, Soroking was found guilty of receiving a bribe when he was the mayor in 2014. At that time, prosecutors stated that the regional Ministry of state property and land resources organized a tender for rent rights to 14 land plots in Nizhny Novgorod, which were allocated for housing construction. One of the companies, with 60% of its shares owned by Sorokin's wife, won the tender prompting another one to appeal the results in regional and federal antimonopoly agencies.
Sorokin, having personal interest in the deal, proposed his acquaintance to pay $1 million to a head of the latter company for recalling the appeal, lawsuit and claims on the land plots, the press-service notes. It added that Sorokin received money from another acquaintance, not aware of criminal intent.