Four Ukrainian sailors to remain in jail until late April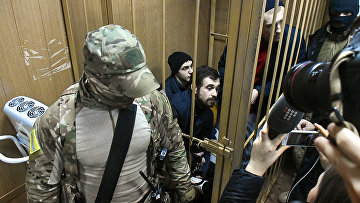 15:40 07/02/2019
MOSCOW, February 7 (RAPSI) – The Moscow City Court on Thursday upheld extension of detention for four Ukrainian sailors charged with illegal crossing of Russian borders, RAPSI learnt in the court's press service.
Therefore, Sergey Popov, Bogdan Golovash, Vladimir Tereshchenko and Andrey Shevchenko will stay in jail until April 24.
On November 25, Russian border guard officers had to engage a weapon to stop unwarranted maneuvers of three Ukrainian ships in Russia's territorial waters in the area of Kerch Strait. The ships were seized while 24 crew members were arrested. Three sailors were wounded.
Simferopol and Kerch courts ruled the sailors be detained. On November 30, all of them were transferred to Moscow.