Granddaughter of Yukos insolvency officer gets 10.5 years for masterminding murder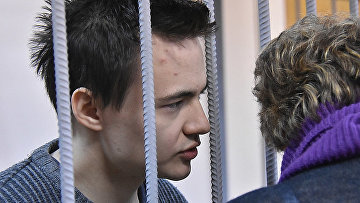 17:45 24/01/2019
MOSCOW, January 24 (RAPSI) - Moscow's Koptevsky District Court on Thursday sentenced Maria Rebgun, the granddaughter of a reputable bankruptcy commissioner of Yukos oil company Eduard Rebgun, to 10.5 years in penal colony for murder organization and assault related to robbery, RAPSI reports from the courtroom.
Might-have-been killer Vlad Gorbakovsky was given 9 years in maximum security penal colony.
Moreover, the court recovered 700,000 rubles ($11,000) from the defendants in favor of a victim in the case.
Prosecutors on Wednesday demanded a 12-year prison sentence for Rebgun and the same term for Gorbakovsky but in high security prison.
According to the prosecution, Rebgun has asked Gorbakovsky to cause bodily harm to her ex-boyfriend and to steal his cellphone for 150,000 rubles ($2,300). Later, the woman changed her plan and asked her accomplice to kill the victim. Investigators claim that Gorbakovsky has attacked Rebgun's former boyfriend with an axe.
Gorbakovsky pleaded guilty to attempted murder and assault related to robbery while Rebgun denied the charges but admitted negligence.
The victim has filed a civil claim against the defendants seeking to collect a little over 7 million rubles ($106,000) in compensation for treatment and moral harm from them.