Russian Supreme Court upholds sentence for St. Petersburg terror cell members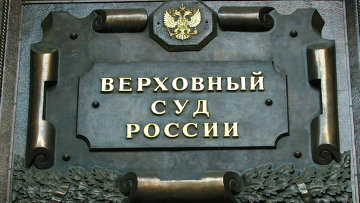 15:15 27/12/2018
MOSCOW, December 27 (RAPSI) – The Supreme Court on Thursday upheld sentence for members of the St. Petersburg cell of Hizb ut-Tahrir terrorist group banned in Russia, the court's press service told RAPSI.
The ruling therefore became effective.
In late July, eight persons were found guilty of participation in the activity of a terrorist organization and received prison terms ranging from 5 to 10.5 years.
According to case papers, since November 2013 the Hizb ut-Tahrir cell has been operating in the Leningrad Region and St. Petersburg. Russian citizens Maksim Tsvetkov, Aziz Yusufov, Artur Akhmedov, Islam Akhmedov and Eldar Mamedov were arrested in November 2016. Tajik national Farkhod Nurmatov was arrested in January 2017. Two more defendants, Mirzobarat Mirzosharipov and Magomed Akhimov were arrested in June 2017.
During searches at their apartment law enforcement officers seized data storage device, books and magazines containing terrorist ideology.
Mirzosharipov only pleaded not guilty.
In May 2014, the Federal Security Service opened several criminal cases on organization of the St. Petersburg cell of Hizb ut-Tahrir and participation in the terrorist group. Over 30 people were arrested at that time.
Hizb ut-Tahrir (the Party of Islamic Liberation), founded in Jerusalem in 1953, is banned in several Arab and Central Asian countries. Russia's Supreme Court banned the group from operating on the territory of the country in 2003, describing it as a terrorist organization.
Hizb ut-Tahrir members are regularly arrested by the police across Russia, mainly in big cities in central Russia, the Volga region and Siberia. Also, there are many supporters in Crimea, which rejoined Russia in the spring of 2014.