Ex-banker Gitelson owes $75 mln to Inkasbank - court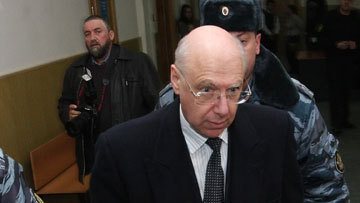 10:33 27/08/2018
MOSCOW, August 27 (RAPSI) - The Commercial Court of St. Petersburg and Leningrad Region has included a 5.06-billion-ruble debt (about $75 million) of Alexander Gitelson to Inkasbank in the list of creditors' claims, according to court records.
The bank's demands are to be met from its ex-chairman's assets kept after compensation of claims of creditors entered on his register, the court ruled.
In March, the Commercial Court of St. Petersburg and Leningrad Region collected 11.3 billion rubles (about $200 million) from Gitelson, another ex-board chairperson of the bank Tatyana Lebedeva and her deputy Lyudmila Samorukova.
Inkasbank was declared bankrupt in May 2009.
In April 2011, Moscow's Meshchansky District Court sentenced Gitelson in absentia to five years in prison and a 1 million-ruble ($17,600) fine for embezzling 495 million rubles ($8.7 million) from his acquaintance, MP Adnan Muzykayev.
Gitelson was arrested in Austria in April 2013 and extradited to Russia in December.
In March 2015, Gitelson was convicted and sentenced to three years for embezzling over 2 billion rubles ($35 million at the current exchange rate) in public funds from Inkasbank. A court in St. Petersburg also fined the banker 500,000 rubles ($8,800).
Later, the court ruled to combine punishments for both crimes and extended prison sentence to five years.
In May 2016, the Commercial Court of St. Petersburg granted Gitelson's petition for his own bankruptcy.