Prosecutor demands 10.5 years in prison for defendant in Crimea sabotage plot case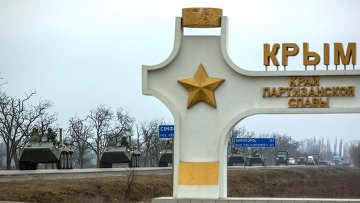 11:47 09/07/2018
MOSCOW, July 9 (RAPSI) – A prosecutor has demanded a 10.5-year prison sentence for Yevgeny Panov, one of the defendants in a case over sabotage plot in Crimea, attorney Sergey Legostov has told RAPSI.
The prosecutor also asked a court to find Panov guilty of all charges brought against him.
In February, another defendant Andrey Zakhtey was sentenced to 6.5 years in prison and fined 220,000 rubles (about $4,000).
In August 2016, Russia's Federal Security Service reported prevention of terror attacks in Crimea prepared by the Ukrainian Defense Ministry's General Directorate of Intelligence against critical infrastructure components of the peninsula.
According to a republic's law enforcement source, seven suspects were arrested. Panov, an officer of the Ukrainian Defense Ministry's Intelligence Directorate, is believed to be one of the organizers of the crime. Zakhtey reportedly was arrested on suspicion of providing activities of the raiding force.