Moscow Region court refuses to close Yadrovo landfill over garbage crisis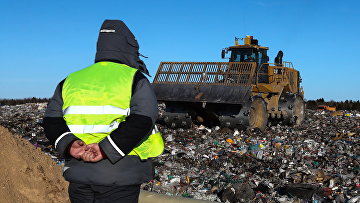 15:50 03/05/2018
MOSCOW, May 3 (RAPSI, Nikolay Merkulov) – The Volokolamsk City Court in the Moscow Region on Thursday dismissed a lawsuit filed by local residents demanding to shut down the notorious Yadrovo landfill site leaking noxious gas and poisoning people, RAPSI reported from the courtroom.
Eight residents of Volokolamsk have lodged suits against Yadrovo company that manages the landfill. The plaintiffs sought to restitute their right to favorable environment and transfer the dump under the control of authorities. Moreover, they demanded to stop collection and transportation of dangerous components.
The municipal administration and the Ecology Ministry of the Moscow Region as well as the defendants asked the court to dismiss the lawsuit. According to the defendant, there is no evidence for harm to health.
The plaintiffs asked the court to turn attention to a notorious fact of environmental pollution which renders adduction of additional evidence for their claims unnecessary. Emergency situation regime has been introduced in the landfill, the fact of violations has been established, plaintiff Oleg Akimov said in court. Business interests must not be above the interests of citizens, he added.
In early March, Yevgeny Gavrilov, ex-head of the Volokalamsk district, initiated emergency protocol and announced measures to liquidate the consequences of ecological violations during exploitation of the landfill. Later, Yadrovo company was fined 150,000 rubles ($2,300) by the Volokolamsk City Court.