Russian Supreme Court upholds recovery of $30.6 million from Uralvagonzavod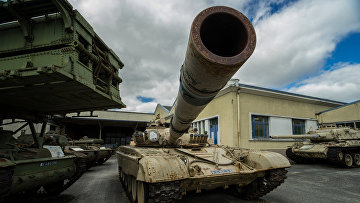 11:15 07/03/2018
MOSCOW, March 7 (RAPSI) – The Supreme Court of Russia won't review a ruling recovering $30.6 million from prominent industrial corporation Uralvagonzavod in favor of the Federal Agency for Legal Protection of Military, Special and Dual-Purpose Intellectual Activity Results (FAPRID), the court documents read.
On February 22, 2017, the Moscow Commercial Court collected nearly $20.4 million of debt owed by the company for licensing and additional $10.2 million of penalty. The court also dismissed a motion to change the contract filed by Uralvagonzavod. The appellate courts upheld the ruling.
According to case documents, the corporation signed a contract with Russia, which is represented by FAPRID, to obtain non-exclusive right to use products of intellectual activity. When Uralvagonzavod was delivering tanks T-90C and T-90SK and other equipment to Algiers, it used products of intellectual property belonging to Russia but did not pay the fee.