Russian Supreme Court refuses to review notorious case of disabled Mamayev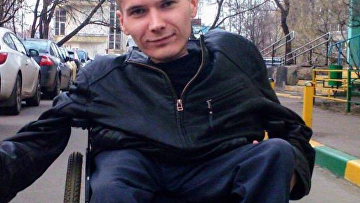 10:55 22/02/2018
MOSCOW, February 22 (RAPSI) – The Supreme Court of Russia has dismissed a cassation appeal lodged by Anton Mamayev, a disabled and wheelchair-bound man who had received a 200,000-ruble (about $3,500) fine for armed robbery, the court's press service has told RAPSI.
The court refused to bring the case to a cassation instance for hearing, the statement reads.
In June 2017, Moscow's Timiryazevsky District Court found Mamayev and his alleged accomplice Vasily Seroshtanov guilty of robbery with the use of force. Mamayev received 4.5 years in prison, Seroshtanov was sentenced to 3 years in prison.
In July, the court released Mamayev from jail and put him under travel restrictions. This decision was made soon after the court received Mamayev's medical examination results submitted by the Federal Penitentiary Service. According to the medical report, the man is suffering from an illness included in the list of diseases that prevent serving of punishment.
Earlier, Russia's High Commissioner for Human Rights Tatyana Moskalkova visited Mamayev in a hospital. According to the ombudsman, Mamayev is suffering from a complex of serious including Spinal Muscular Atrophy. She filed a petition with the Moscow City Court seeking release Anton Mamayev and a request with the Federal Penitentiary Service to speed up his medical examination.
In August, the Moscow City Court replaced Mamayev's prison term with a 200,000-ruble (about $3,500) fine.