Chinese citizen gets suspended term in Russia for painting smuggling attempt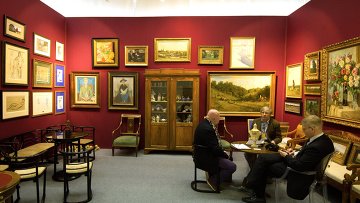 10:59 13/12/2017
ST. PETERSBURG, December 13 (RAPSI, Mikhail Telekhov) - Chinese citizen Xu Chao has received a 2.5-year suspended sentence for an attempt to smuggle a work by the Russian landscape painter Alexey Savrasov, RAPSI has learnt in the Moscow District Court of St. Petersburg.
The court found that in March 2017, the defendant registered his luggage with the hidden "Wintry Landscape" painting by Savrasov and concealed a sketch-book by Olga Lagoda-Shishkina in his hand baggage when leaving St. Petersburg for China.
The cultural values estimated at more than 1.3 million rubles (about $22,000) have not been declared. The Chinese national has not obtained permit to export the works of art, prosecutors said.
Xu Chao has been charged with illegal export of cultural values across the Customs Union's border.