Ruling in defamation dispute between Russian fund and Navalny upheld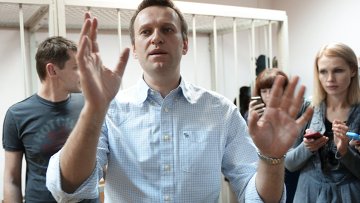 10:59 29/11/2017
MOSCOW, November 29 (RAPSI) – The Moscow City Court has upheld a lower court's ruling granting a defamation lawsuit filed by the Foundation for support of socially relevant government projects (Sotzgosproject) against opposition politician Alexey Navalny, RAPSI correspondent reports from the courtroom on Wednesday.
The Lyublinsky District Court of Moscow issued the ruling on September 19. Today it came into force.
A representative of Navalny said that information contested as defamatory is "true beyond reasonable doubt."
The Lyublinsky District Court held in September that Navalny and the Anti-Corruption Foundation must retract information stating that businessman Alisher Usmanov gave a bribe to Prime Minister Dmitry Medvedev by gifting the latter's charity foundation. In addition, the defendants were also ordered to retract claims stating that the plaintiff was involved in a criminal scheme and that it is not conducting actual charity.
Also, the defendants are to delete fragments of published materials containing false and defamatory information.
The lawsuit was lodged in relation to a movie published on Navalny's Youtube channel. According to the plaintiff, information distributed by the defendants is false and defames the plaintiff's reputation. In particular, Sotzgosproject contests several assertions including one stating that "oligarch Usmanov gave a bribe to Prime Minister Dmitry Medvedev by gifting the latter's charity foundation 5 billion rubles (about $87.5 million)."