Alleged organizer of women's terrorist cell arrested in St. Petersburg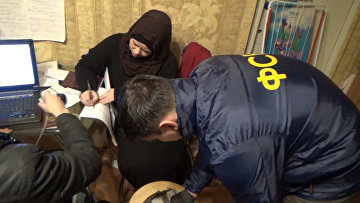 15:42 24/11/2017
ST. PETERSBURG, November 24 (RAPSI, Mikhail Telekhov) – The resident of St. Petersburg Alla Bespalova has been arrested on suspicion of organizing and managing the activities of a regional women's cell of Hizb ut-Tahrir terrorist group banned in Russia, the press service of the Federal Security service's (FSB) regional directorate has told RAPSI.
A court is to apply a measure of restraint for Bespalova soon, the statement reads.
According to the FSB, the work on suppression of destructive activities of radical organizations in St. Petersburg is ongoing.
Hizb ut-Tahrir (the Party of Islamic Liberation), founded in Jerusalem in 1953, is banned in several Arab and Central Asian countries. Russia's Supreme Court banned the group from operating on the territory of the country in 2003, describing it as a terrorist organization.
Hizb ut-Tahrir members are regularly arrested by the police across Russia, mainly in big cities in central Russia, the Volga region and Siberia. Also, there are many supporters in Crimea, which rejoined Russia in the spring of 2014.